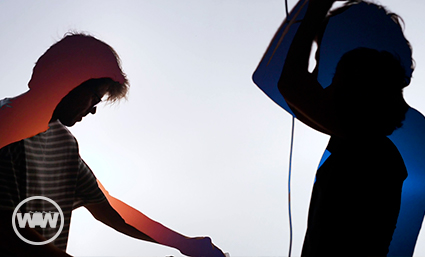 /EN/
A year ago Kindata entered the studio to work on their debut album. They pressed record and experienced a strange new feeling. The melodies they were trying out were finished by the time they learned to play them. The vocals contained words before writing a single word. Many hooks and arrangements took shape in unprecedented ways. Since that moment Kindata realized that they were merely the transmitters of this music that was floating around in a nearby dimension and it became their obsession to capture the beauty they could see and hear. And the final result is this album called We the Transmitter.
We the Transmitter is progressive rock from the 80s converted into electronic and experimental pop from 2018. Spiritual and dreamlike melodies combined with analogue synthesizers and electric guitars that sound as if they were alive. At some moment of the recording process Berni (Sevilla) and Tero (Helsinki) realized they were at last writing the kind of music they had always dreamed of making. And they are very proud to present these songs to the world.
Kindata was born in January 2017. Their debut EP Divine Service convinced both critics and listeners alike. Rumba, Finland's leading music magazine, considered it to be one of the best electronic music releases of 2017. Their songs have been played on Spanish Radio 3 and Radio Helsinki and Bassoradio from Finland, as well as on various podcasts. They have performed mostly around Southern Spain and with the release of We the Transmitter they are going to head north.
/ES/
Un día, estando en el estudio componiendo y grabando los primeros temas del disco se hizo patente algo que el grupo llevaba tiempo sintiendo pero que, por alguna razón, no habían terminado de visualizar: las melodías surgían completas, las letras en buena medida también y numerosos riffs y arreglos daban forma a los temas de manera que nunca antes habían experimentado. A partir de ese momento tomaron plena conciencia de ser meros transmisores de la música que flotaba latente en alguna dimensión cercana, su obsesión era encontrar ese estado mental en el que dejar fluir esos fogonazos, esos destellos de belleza de los que disfrutaban más como espectadores que como ejecutores… Y así, saltando de asombro en asombro combinado con el necesario trabajo artesanal de dar forma a todo ese amasijo de cápsulas musicales fue como finalmente dieron forma a WE THE TRANSMITTER.
We the Transmitter es rock progresivo de los 80s pasado por el filtro de la electrónica y el pop experimental de 2018. Melodías espirituales y ensoñadoras combinadas con sintetizadores analógicos y guitarras eléctricas con el sonido más orgánico. We the Transmitter es el momento en el que Berni y Tero se dieron cuenta de que estaban al fin escribiendo el tipo de música que siempre habían querido hacer.
Kindata nacieron en enero de 2017. Su EP de debut, Divine Service (WeAreWolves Records) convenció a crítica y público de forma que medios como Rumba (la revista musical más importante de Finlandia) eligió este trabajo como uno de los mejores lanzamientos de música electrónica del año. Su música ha sonado en Radio 3, Radio Helsinki, Bassoradio y en innumerables podcasts. We the Transmitter les llevará mucho más lejos de lo que habían pensado hasta ahora.