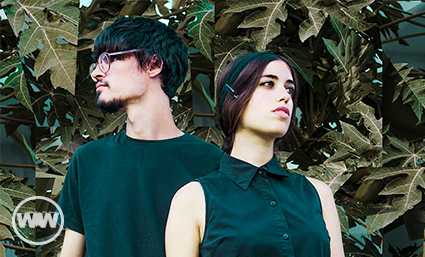 /EN/
"A fantastic experience, a journey that makes you sometimes dive into science fiction. Frozen psychedelia, disturbing echoes, electrified "retrofuturism"… that is what this Unsuspected album is all about"
Unsuspected are three youngsters making songs about the past they never lived, from a blurred time dimension where presente, past and future become a new verbal tense, exciting as much as surprising. Eva, Lucas and Rafa have been able to craft an outstanding set of songs by all means; obsessed with searching for the right sound: organic, electronic, plastic.
"Listen Time Space" is totally a grower: it grows, and mellows and bounces every time you play it. These six songs elongate and shorten the twenty seven minutes the EP lasts, and place Unsuspected in the Nebula across which the ghosts of Pram, Broadcast, The United States Of America and Stereolab can be seen, wandering.
/ES/
"Una experiencia fantástica, una travesía que roza la ciencia ficción. Psicodelia congelada, ecos inquietantes, retrofuturismo electrificado: el nuevo trabajo de Unsuspected."
Unsuspected son tres jóvenes haciendo canciones sobre un pasado que no han vivido desde un plano temporal difuso en el que pasado, presente y futuro se conjugan en un tiempo verbal sorprendente y emocionante. Eva, Lucas y Rafa han facturado un conjunto de canciones sobresalientes en todas sus aristas, obsesionados con la búsqueda del sonido correcto, orgánico, electrónico, plástico y lisérgico.
"Listen Time Space" crece en cada escucha, madura y rebrota cada vez. Estas seis canciones alargan y acortan los veintisiete minutos que dura el EP y colocan a Unsuspected en la nebulosa por la que transitan los espectros de Pram, Broadcast, The United States of America o Stereolab.